To save you even more time and cut out needless rekeying and potential mistakes you can link your ServiceSight system to your Xero accounts system.
Click here to see why you should link to an accounts system like Xero!
Setting up connection
– Setting up connection
– VAT Rates
– Customer tax codes
– Default accounts
Using the integration
– Syncing customers
– Syncing invoices
– Data Flow
– How to disconnect
– FAQ's
Once established the link enables you to import & export customers as well as synchronising your sales invoices to Xero, ready for credit control.
Go to Settings | Accounting | Accounts Link.
Click the blue 'Connect to Xero' button.
Your Xero login will appear to enable you to grant access for ServiceSight. Ensure the correct company is selected and click the 'Allow Access' button.
ServiceSight will link to Xero and you will be returned to ServiceSight and see a green 'Successfully connected to Xero message'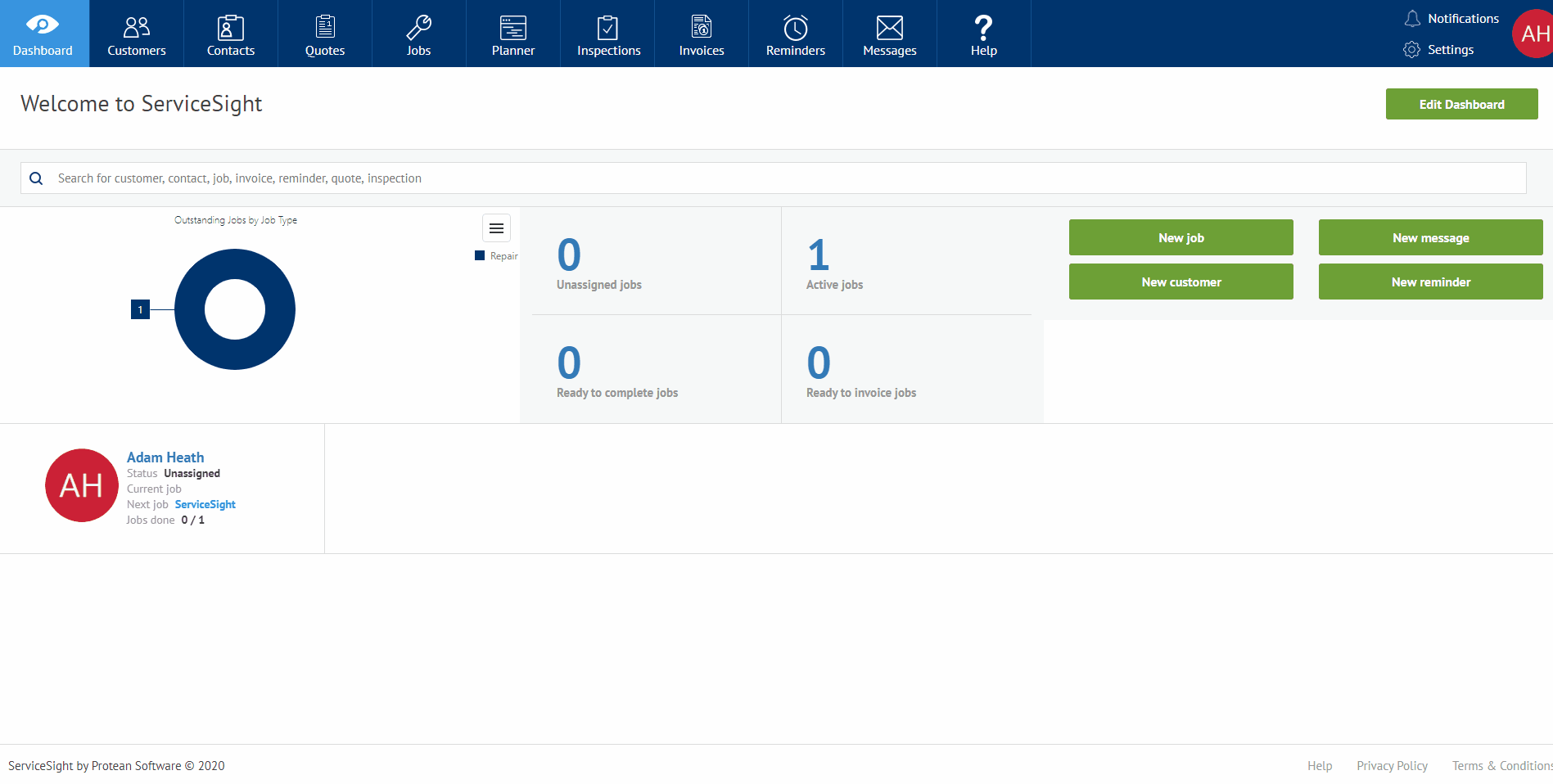 A new tab, 'Settings' appears along with a message stating 'You must save your account settings before you can do sync' You will need to check & complete the Settings tab prior to importing/exporting customers or sending invoices to Xero. Click on the Settings tab;
For each VAT rate you have created on ServiceSight (How to create & edit VAT rates) you will need to match it to its corresponding partner in Xero. For example, if you have created a 20% rate and a 5% rate in ServiceSight then you will need to select a 20% & 5% rate in Xero.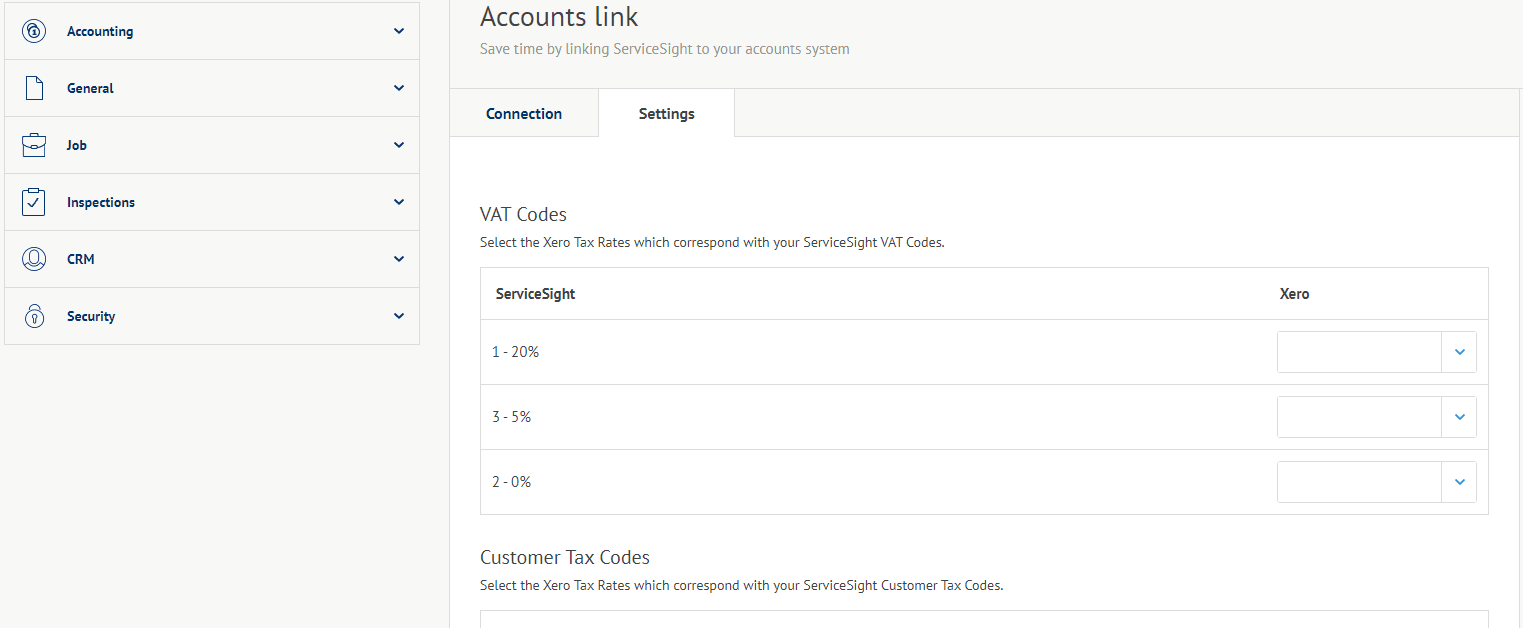 Select the Xero VAT rate from the drop-down list to match up the rates in ServiceSight. Note that you only need to match those rates that are in use on your sales invoices.
Each of your Customer tax codes will need to be mapped to the Xero customer tax codes. Note that the system will attempt to match them up for you but you will need to check them and re-select when necessary.

Here you can specify what nominal code in Xero is to be used for sales revenue & which code for suspense postings. Note that the system will attempt to map these for you. Account 200 will be selected for Sales & account 850 for Suspense. These can be changed here if needed. Note that when saved the sales account will be used on all Job types & Material types as the sales code. These can be then be updated to a variety of nominal code if desired.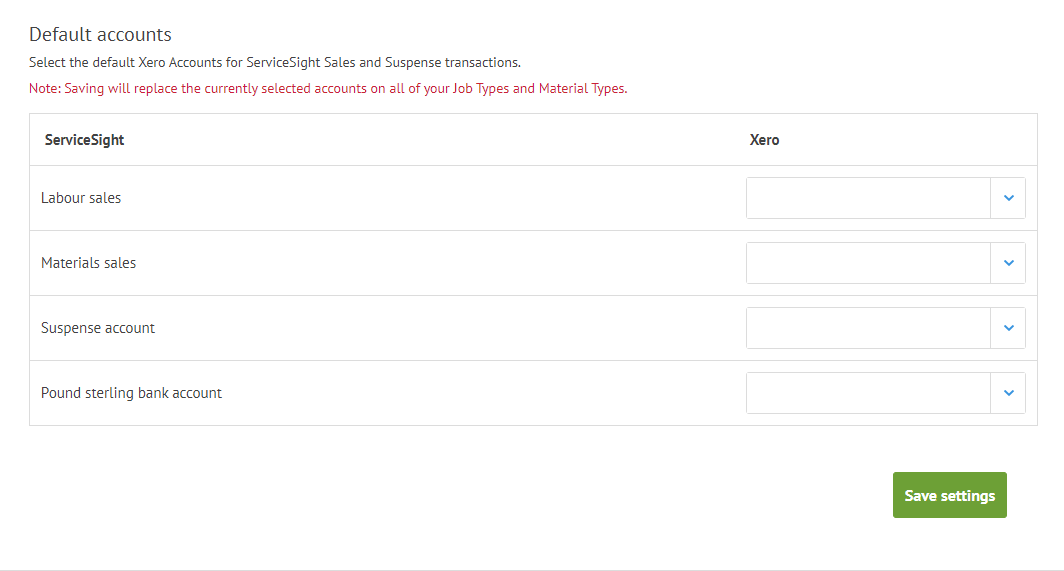 Once you have completed the Settings tab click the 'Save settings' button and you are ready to sync with Xero!
Go to Settings | Customers| Sync.
Ensure you are connected to Xero as above.
Click the 'Sync' button
This will take you to the account link page to confirm the Sync has happened.

Synchronising Invoices with Xero
Go to Settings | Accounting | Accounts Link.
Ensure you are connected to Xero.
Click the 'Sync accounts' button. This will update your sales invoices from ServiceSight into Xero.
A message will appear to show that the sync has completed.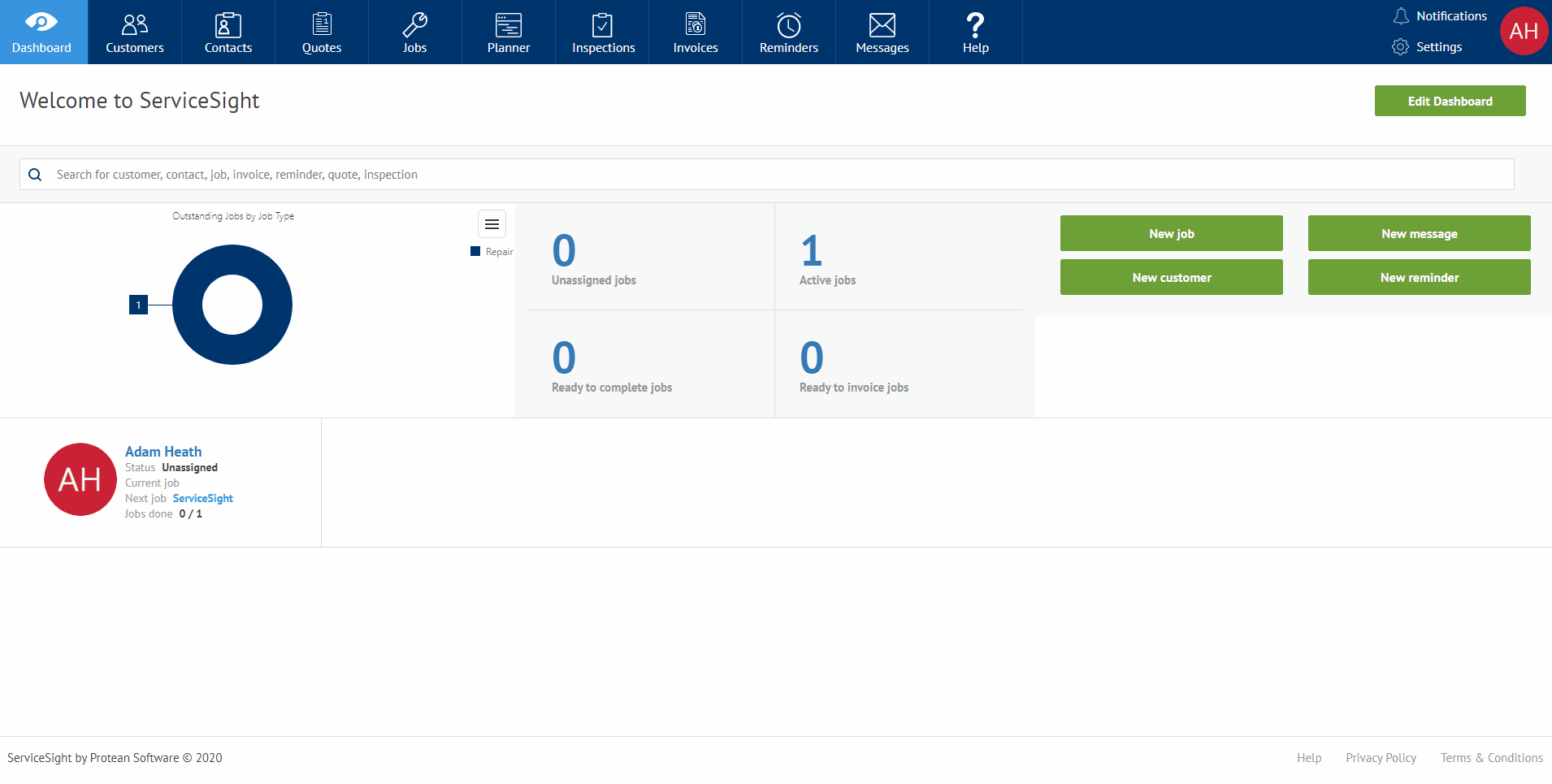 Data flow between ServiceSight & Xero
Communication between ServiceSight & Xero is not only smooth but two-way. Customers, Contacts and Payments are synchronised ensuring no double entry is required and neither system gets out of date. Any Invoices raised in ServiceSight are passed seamlessly to your customer accounts in Xero with the correct nominal analysis achieved through your very own Chart of Accounts.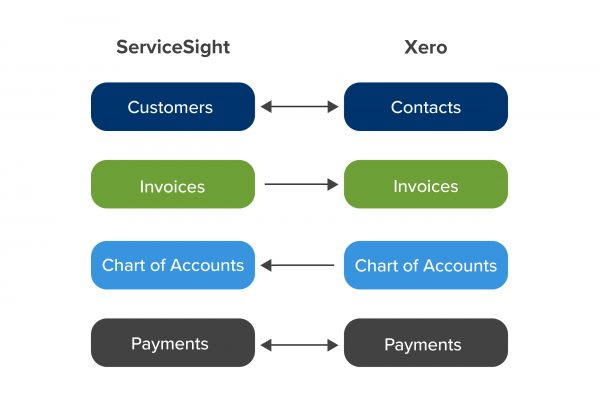 Sometimes you may want to disconnect your Xero connection from ServiceSight or link to a different Xero company. To link to a different company disconnect and follow the setup process again.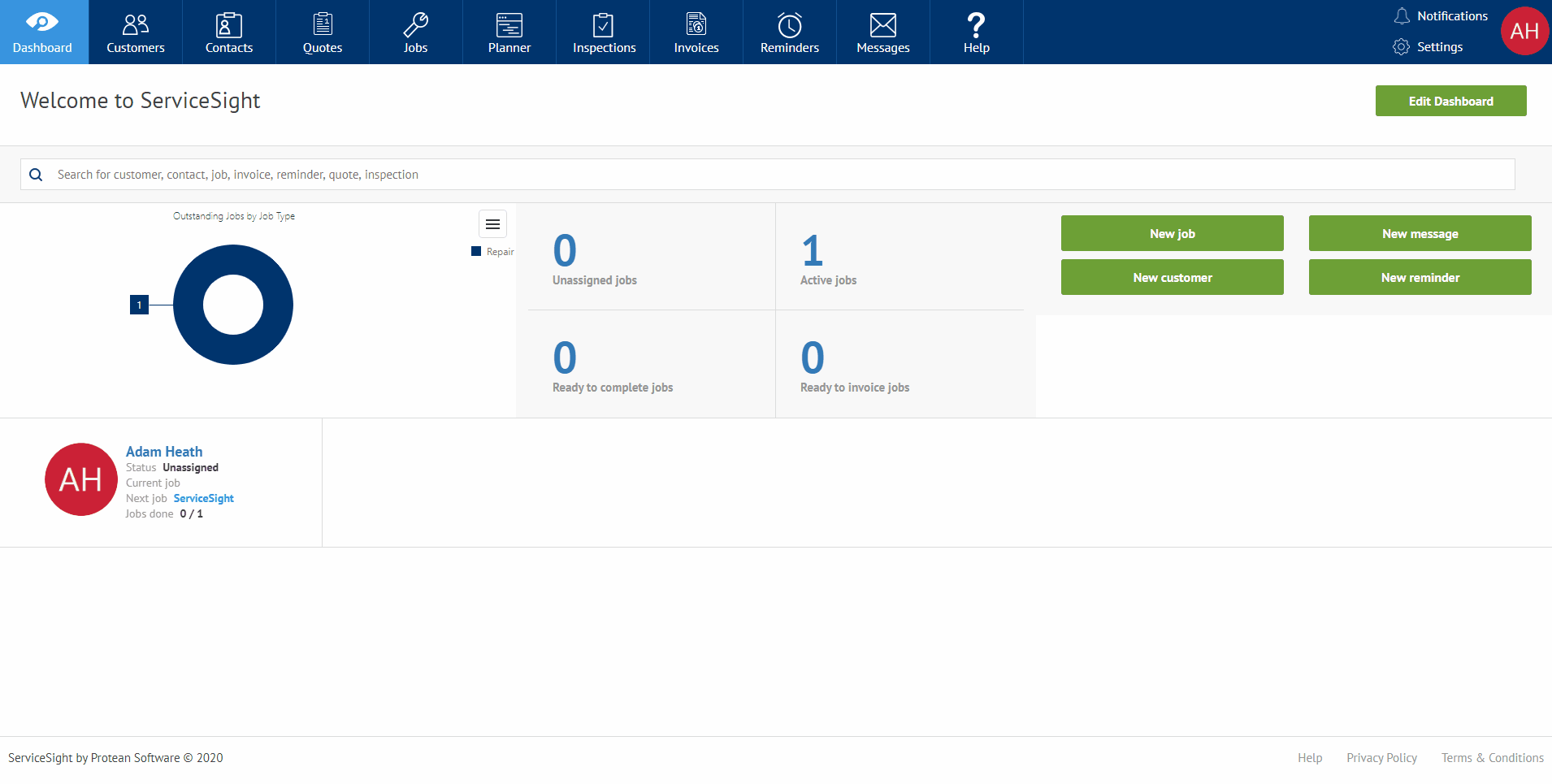 How do I reconcile sales data synced to Xero?
In ServiceSight its very easy for your check if every Sales Invoice has synced to Xero. Open the Invoices list from the menu and you will see a Xero logo button against each invoice. Clicking here will open your Xero company and display that same invoice for checking. You can also link back the other way – from Xero to ServiceSight for ultimate peace of mind.
When and how does data sync occur? Is it manual, automatic, on login, in real-time?
The data sync occurs whenever you want it to and is under your manual control so you can run it as little or as often as needed. We are planning on adding automation to this feature shortly.
Are there any settings related to synchronising?
Yes, once connected you will need to configure your VAT & tax information as well as select some nominal codes to be used for reporting your revenue from Sales Invoices.
Can i change the Xero company i am connected to
Yes, you would need to Disconnect from the company you are currently linked to and follow the Connection process again.
Are payments synced with Xero?
Yes, payments are synced automatically when you do a 'Sync accounts' and the outstanding balance on the invoice in ServiceSight will update.
If you have any further queries or still require assistance please contact our support team!